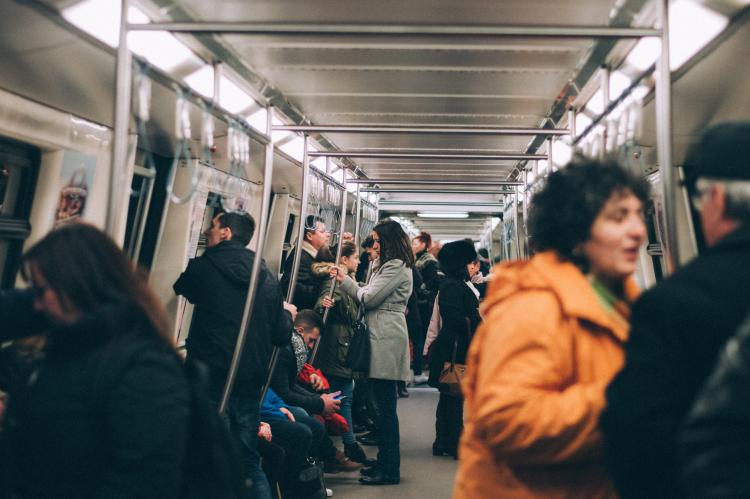 The air on the London Underground is filthy and we are breathing it in every single day on our commute to work.
A study released in January suggested spending an hour on the Tube was equivalent to spending a whole day standing by the side of a busy road.
The study, commissioned by Transport for London and carried out by the Committee on the Medical Effects of Air Pollutants, found the air on the Tube was polluted with PM2.5 or particulate matter, which can lodge in the lungs.
The report said: "We cannot, rule out the possibility that there is a health risk from exposure to underground PM."
Concerns about air quality on the tube have been raised since the release of the report.
And Transport for London has committed to maintaining the "cleanest air possible," complying with Health & Safety Executive guidelines.
Now, some design engineers based in London may have come up with a solution.
In a project supported by Imperial College London and the Royal College of Art, a team of four students have curated palettes of bacteria that could act to neutralise harmful pollutants in the air.
The project, called Cellul-air, uses a process of bioremediation to mix with different pollutants and neutralise them to purify the air.
Amos Oyedeji, 24, has been given a scholarship to work on the project by the Royal Commission for the Exhibition of 1851.
He told Future London he and the team wanted to focus on air pollution as a subject because people were "incredibly unaware" of how important the issue is.
"[Air pollution] is there and it's having a negative impact on people's health," he said.
After researching air pollution and technologies that can combat its negative effects, the team decided to look to bacteria as a solution.
"We got quite interested in how each different bacteria has the ability to neutralise different pollutants," Oyedeji said.
The team of design engineers, Kate Strudwick, Nicole Stjernswärd, Alex Facey and Oyedeji, want to create 'cells' of bacteria that are specifically curated to neutralise air in certain environments.
Oyedeji explained: "We will come and measure the different pollutants – for example, metal particulates from rubbing on the rails on the Tube.
"Then we will go back and curate a palette of bacteria that would be suitable in cells."
Although testing of the cells is still in its early stages, studies have shown positive results in trialling bacteria to remove dangerous particles in other areas.
"Bacteria is already used in water purification to clean out pollutants like cyanide," Strudwick said.
So will we be seeing these cells lining the wall of Tube platforms in the future? It certainly looks promising, but the team is also hoping to trial the cells in places like offices and art galleries too.
Via Tube pollution: Could bacteria create clean air on the London Underground?