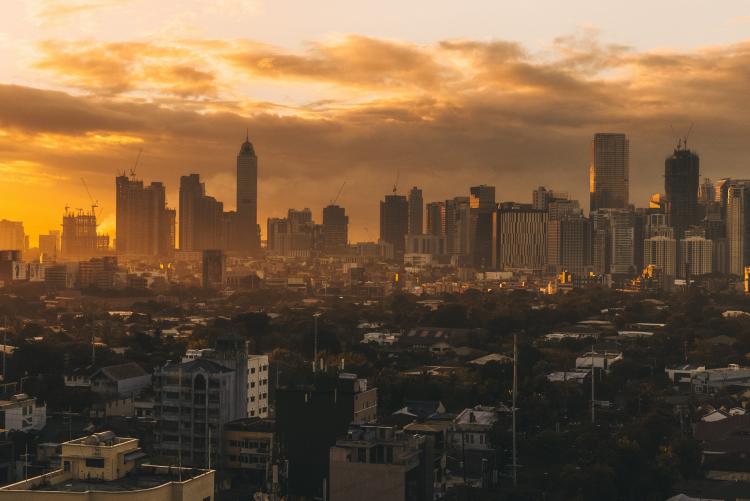 Manila, Philippines: Just thinking about going anywhere in the Metro Manila area gives me a headache; imagining how to deal with the heat, getting enveloped in black exhaust smoke and feeling the dirt slapping me in the face when a car zooms past me – it all just turns me off. Sometimes when I give in to the urge and walk to the nearest coffee shop for a fix, I end up looking and smelling like I've been living out in the streets for days. It's why I'd rather relish my cup a' java at home where I can strip off the city grime from my hair, skin and the insides of my nose and drink contently without having to worry about breathing in polluted air.
The air we breathe
We can live without nourishment for maybe a month but a few minutes without oxygen can send us to our graves. But what happens when the air we need to sustain us is dirty?
Here in the Philippines, there are high levels of pollutants in our air, and when you walk around the city, it's quite common to see people wearing face masks to avoid air pollution.
Now a well-rested, average adult breathes in about eight litres of air per minute which is roughly 11,000 litres of air per day. There's a lot of contaminants in those 11,000 litres. The poor air quality isn't just impacting adult health either, it's affecting kids too. Children are increasingly developing respiratory and immune system problems.
Air pollution also causes deaths through diseases such as lung cancer, stroke, pulmonary disease and acute respiratory infections such as pneumonia.
What's the source of air pollution in the Philippines?
There are more than two million vehicles registered in the national capital region. That's just the registered ones. So if you combine this number with the total of all the other preexisting and unregistered transportation operating in the region including motorbikes and jeepneys, that equals a whole lotta traffic, a whole lotta vehicle emissions and a whole lotta pollution.
Department of Environment and Natural Resources (DENR) records show that the current rate of air quality in the Philippines doesn't meet its Clean Air Act standards. While the air pollution rate has gone down by 20 percent, it still hasn't met ideal levels. The leading contributor to air pollution is vehicle emission. It contributes about 69 percent to Metro Manila's air pollution. President of Partnership for Clean Air Rene Pineda explains that the issues stem from overpopulation, more vehicles on the roads increasing traffic congestion, and high-rise buildings and infrastructure that means air pollution gets trapped on the ground instead of dispersing.
Other contributing factors: the burning of toxic waste; pollution and heat-trapping carbon emissions from the manufacturing and agricultural sectors.
Where are we now?
The Philippines ranks third on the highest cases of death due to air pollution. A May 2018 report by the World Health Organization (WHO) indicates that there were around 45.3 deaths per 100,000 individuals due to air pollution.
In the Asia Pacific region, Philippines also ranks second in indoor air pollution. This is primarily caused by cooking with kerosene or solid fuels such as wood or coal (uling). Deaths among women and kids have been linked to indoor air pollution.
Environmental impacts
The rates of climate change seen today is caused by human activity, and that is true for air pollution too. The planet's natural resources such as water, forests, crops and animal life are all at the mercy of the human species.
The Philippine Clean Air Act of 1999 was created to protect human health and the environment but more needs to be done to curtail the activities releasing pollutants into the air.
Climate change is a result of the mass effects of air pollution. It leads to rising sea levels, warming oceans leading to coral bleaching, intense droughts and increased frequency of flooding (which is already adding to the country's problems).
In addition, climate change is the leading cause of food insecurity, with crop yields expected to drop by a further 25 percent and fish stocks to decrease by 40 percent. Climate change has already affected crop yields in the Philippines which has in turn, caused food shortages. As a consequence, malnutrition rate in the Philippines has gone up to 33.4% from 30.3% in 2013.
Solutions
Aside from being a good citizen and abiding by the laws designed to protect the environment, we can also do simple things to reduce air pollution and mitigate climate change:
Demand proper public infrastructure
Instead of building more roads, the government should take appropriate steps to ease congestion by offering alternative modes of transit such as trains, skyrail and even electric buses.
Here's what you can do: Write to your local government and bring this matter to their attention. Or better yet, use social media and leave messages for your government officials on Facebook, Twitter and Instagram.
Green vehicle incentives
The best way to phase out old, air polluting vehicle models is to transition to greener cars. The Filipino government will need to start investing in this area – and we should all help them along by making it known that this is what we want.
Here's what you can do: If you need a vehicle, aim to purchase a hybrid or electric vehicle. If you own a jeepney, consider transforming it to electric and solar powered. Reduce your need to use vehicles whenever possible.
Eat a plant-based diet.
Paul McCartney along with his daughters Stella and Mary, launched a Meat Free Monday campaign a decade ago and its being widely embraced by environmentalists. One day without meat can help to reduce agriculture-related greenhouse gas emissions and ease the burden on the planet.
Via Philippines Ranks Third in Air Pollution Deaths. Here's What Needs to Be Done...
Photo by JC Gellidon on Unsplash