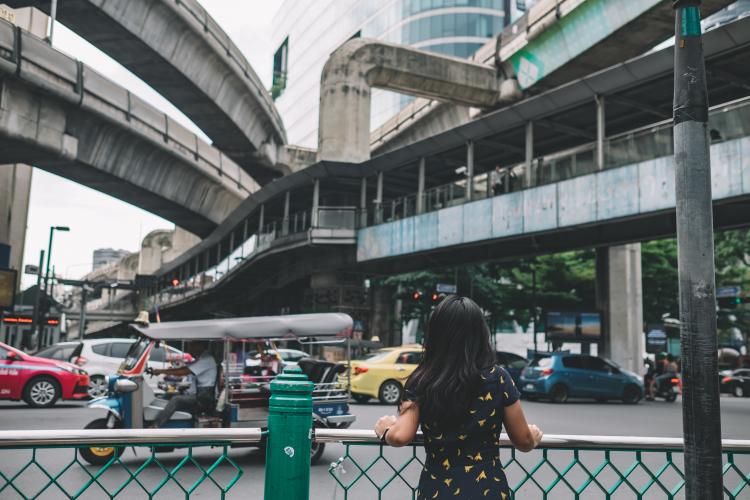 A recent spell of especially soupy air has Bangkok scrambling to disperse dangerous pollutants and protect residents against dire health impacts.
The government has reacted quickly, clamping down on heavily polluting vehicles, deploying police and military to inspect factories and incinerators, shutting schools to protect children, and even deploying cloud-seeding planes to force rain and clear the air.
According to Kakuko Nagatani-Yoshida, UN Environment's Regional Coordinator for Chemicals, Waste, and Air Quality, it's a good start.
"The government has to take decisive action to enforce pollution regulations, and they are on the right track so far, deploying efforts such as strict enforcement of emission controls. We know they are also looking at more urgent measures and UN Environment is working closely with the government on longer-term solutions," she said.
"While solutions like cloud seeding may provide temporary relief for larger particulates, it does not, however, help reduce PM2.5," she warns. "After these interim measures, the next logical step is to shut down the most polluting factory. That may mean accepting some economic damage in the short term, but protecting public health must be the utmost priority. Beyond factories, the government can move urgently to replace soot-spewing public buses and boats running on diesel fuel with versions that are less polluting."
Air pollution in Bangkok arises from a mix of factors. Traffic, construction and factory emissions are the main reasons, but at this time of the year, burning of waste and crop residues is also a major source. There isn't just one culprit for the recent bout of air pollution, but it has been exacerbated by weather conditions that have not allowed the pollutants to disperse.
Bangkok and other areas in Thailand already experience regular air pollution. The prolonged period of unhealthy air in Bangkok is not unique to the city nor the country: 92 per cent of Asia and the Pacific's population—some 4 billion people—are exposed to levels of air pollution that pose a significant risk to their health.
The current countermeasures are a short-term solution to this problem because, as Nagatani-Yoshida points out, "Factories can't be closed forever. People need to get around. Ultimately, if people want to breathe clean air, numerous measures must be taken to tackle pollution."
UN Environment recently published guidance on reducing air pollution. Some 25 measures could reduce premature mortality in the region by one third and see one billion people living in Asia breathing clean air.
"We hope country, provincial and city governments across the region, including Bangkok, look at these recommendations and implement them urgently," said Nagatani-Yoshida.
UN Environment and the Climate and Clean Air Coalition are already working with the Thailand Pollution Control Department, the Department of Alternative Energy Development and Efficiency, and other agencies to implement some of these clean air measures and substantially reduce PM2.5 levels.
In particular, UN Environment is collaborating with the Pollution Control Department to leapfrog from Euro IV vehicle emission standards to Euro VI, which are currently the strictest standards in place.
Collaboration will also focus on helping shift 2–3 wheelers in Bangkok from gasoline to electric and retrofitting the numerous boats and ferries used for public transportation in the canal-connected city.
There is no time to waste. The faster the government moves to clamp down on emitters and back clean alternatives, the sooner Bangkok and the rest of the country can start to breathe again.
Via Air pollution is choking Bangkok, but a solution is in reach
Photo by Hanny Naibaho on Unsplash